How To Sell on Amazon For Beginners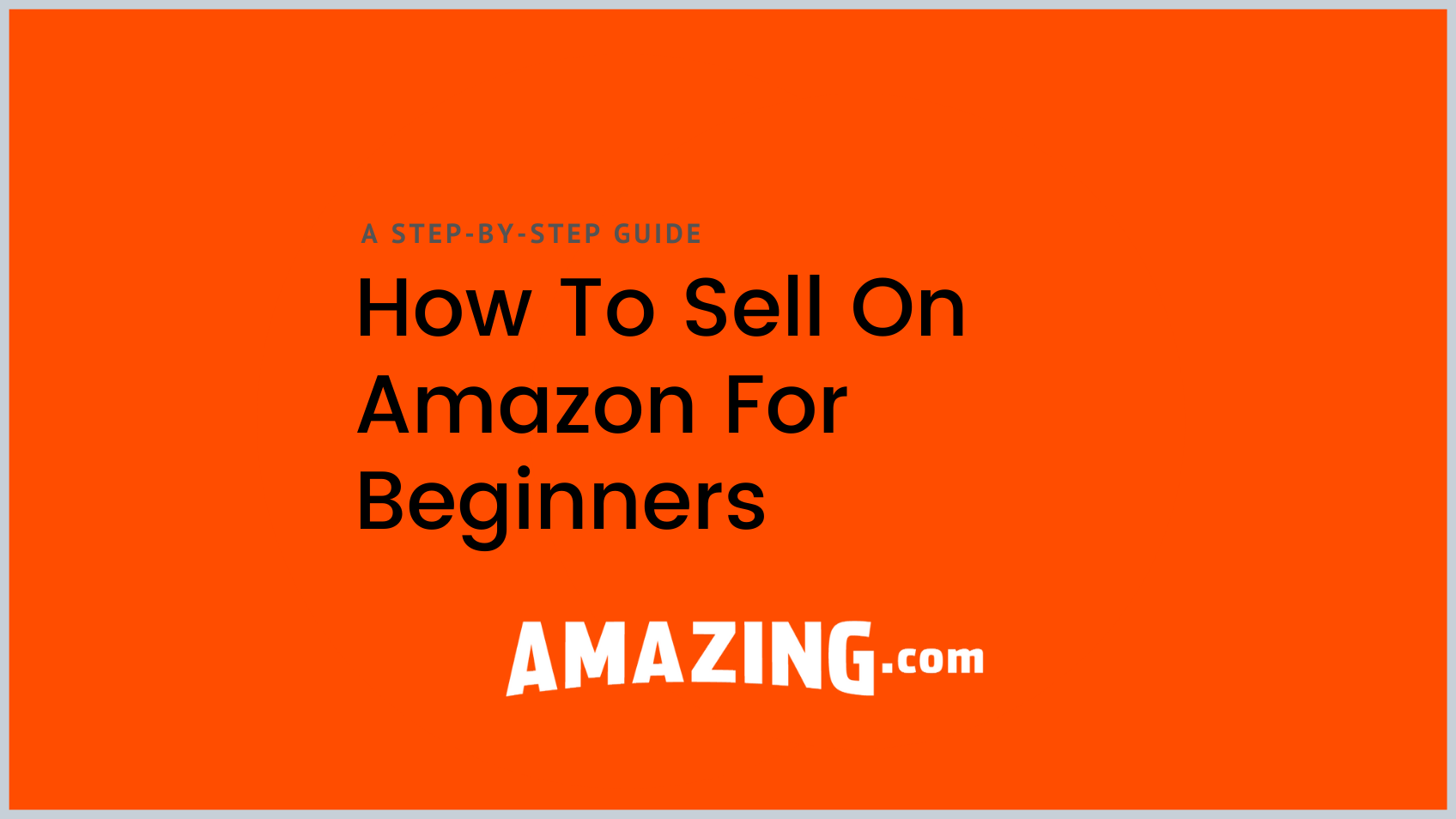 Guide Contents:

We want to show beginners just like you how to sell on Amazon! If you've been thinking about earning a passive income to supplement your job, but didn't know where to start, then Amazon FBA might be the best opportunity out there for you.
Selling on Amazon is accessible to everyone, even beginners. There are tens of thousands of sellers, just like you and me, who are earning full-time incomes from Amazon. All it takes is some motivation, a few new skills, and exceptional knowledge of the entire process. So, let's take a look at how to sell on Amazon for beginners!
Get Motivated To Sell on Amazon
It's easier said than done. Your mindset will be the key to unlocking your full potential when selling on Amazon FBA.
Write down what your goals are from this business, including how much do you want to start earning monthly? $100, $1000, $10,000? All three of these figures are entirely possible to achieve. It all just depends on how much money and time you're willing to invest in this business and yourself.
Then ask yourself, how quickly do you want to build this business? How much free time do you have to build it? Be realistic and accountable too. If you can only commit to working on your Amazon brand during the weekends, make sure you stick to your schedule and make progress.
Sign Up To Be an Amazon Seller
So you'll want to sign up as a Pro Seller. Pro accounts have a monthly fee of $39.99, but it's worth it, especially when you plan on selling more than 40 items per month. Head over to Amazon if you're ready to sign up!
Amazon Product Research
Once you've mastered the five rules for product research, you'll be able to spot a fantastic product opportunity from a so-so one. Five criteria make up any good product opportunity. Want an even more in-depth look at Amazon product research? Check out what to sell on Amazon to make money, for now, here's a quick rundown of the five filters you should set when using a product finder. Your ideal product will fit all of the following criteria:
BSR Between 300 to 5000 – To give your products the best chance of being found, you only want to consider products with a Best Sellers Rank between 300 and 5000. It's important to note you only want to discuss the top-level category when making this assessment.
Less Than 1000 Reviews – You don't want to sell products that can't compete against existing products in your niche. Since your product starts with zero reviews, you're just not going to look as credible, having only a handful of reviews in a competitive niche.
Less Than 5Lbs – Sourcing a product that is less than 5 lbs lets you avoid costly inventory reorders, and customer returns. To maximize your profit potential, sourcing a product that is extremely small and lightweight is ideal.
Priced Between $15 and $70 – Add a filter to sort by price range to significantly reduce the number of products you have to sift through. Between $15 and $70 is the optimal range to maximize.
Private Label Potential – So you can't set a filter for private label potential, but the idea is to seek out products that can be easily branded with your designs and logo. Think generic items like a soap dish or kitchen utensil holster, which you can add on your branding.
Sourcing Products
For a full explanation of sourcing products from overseas, or even sourcing products from the USA, check out our product sourcing guides.
Use Alibaba.com to Research Suppliers – To source products overseas, alibaba.com is still among the best places to go without actually going overseas. Their directory of suppliers includes factories and trading companies for almost any product you want to source.
Find 10 Suppliers That Meet Your Criteria – Reach out to them using the contact supplier feature on Alibaba.com
Choose the Top Three Suppliers – Contact each of the suppliers in your top 10, based on the responses you receive from your initial introductory emails, select a top 3.
Order Samples – While there is a small cost to ordering samples, it's a necessary step to make sure you're selling a high-quality product. If you're very hesitant about paying for samples, you can always ask your supplier if they'll discount your first order price since you're paying for samples upfront.
Creating & Optimizing Product Listings
Once you've sourced a solid product, it's not enough to just create an Amazon product listing and hope for the best, you've got to know how to optimize your listings for maximum reach. An optimized product listing leads to more conversions, better rankings. So product listings can be optimized on the backend and the front, but here's a quick rundown of the essential aspects of Amazon listing optimization you should take seriously:
Title – The title should display not only the product title but also the product's brand name together with keywords found during keyword research. Along with all of this, you should show the product's best features.
Images – Photography is critical to your product's success. Your pictures should be high quality, clean, and showing off the features of your product. Images are equally as, if not more important than the title, because pictures can quickly convince people of your product's quality.
Product Introduction – Your product's introduction should be relatable to the customer, help remove any doubts about your product right away. Address a customer's pain points right from the start, and they'll feel more comfortable buying your product. Show them what's in it for them by adding descriptive bullet points highlighting your product's main benefits and useful features.
Product Description and Bullet Points – Since the product description is a more in-depth write up of your product's usefulness and functionality, you should ensure it's filled with rich details. Keep in mind this section of your Amazon listing allows for detailed infographics, additional images, and supplementary text to show customers everything they need to know about your product. It's essential to make this area keyword reach since these keywords can affect a listing's ranking in search engines.
Q&A – Remember to give thoughtful, helpful, and reliable answers to every customer inquiry you receive after the launch of your product. The answers to these questions are beneficial to customers and your sales since they tend to be straightforward and address common pain points. It also allows customers to trust your brand and integrity over a competitor's product.
Amazon Search Terms Optimization – Before you create tags based on the relevant search terms and keyword research for your product, it's essential to know the tagging rules. Learn the best practices, and guidelines to make sure you're driving traffic to your listing most effectively.
Using Amazon Sponsored Ads
There's a ton of strategies you can use to help you beat the competition on Amazon. Here's a quick breakdown of one example on how to lower your amazon advertising costs. So using Amazon's advertising campaigns, there are only three things you need to familiarize yourself with to profitably optimize your Amazon sponsored ads.
Breakeven CPA – So breakeven CPA is just the price of an Amazon product, minus the cost of the goods sold. The amount leftover is the max you should be paying to land a new customer. So If your Amazon sale price was $34.99 and your cost of goods sold was $22.99, your max breakeven CPA should be $12. Breakeven CPA helps you determine how much to invest in advertising.
Click to Sale Ratio – This simply refers to the number of clicks it takes for a paid ad to convert a sale. For example, if you paid for 250 clicks and 50 clicks converted to orders, the click to sales ratio would be five. That means it takes five clicks of that keyword to reach a sale.
Max CPC – Max CPC is the golden metric. It's so useful because it allows you to reduce your ACOS (advertising cost of sales) significantly. So you just need to come up with the maximum you can afford to pay per click. To determine your ACOS just divide your max CPA by your click to sale ratio.
Lowering your costs and maximizing your sales by all means possible is a huge competitive advantage. Once you have a better understanding of your breakeven CPA, click to sales ratio, and max CPC, you'll be able to optimize your Amazon sponsored ads spending with your keywords.
Focusing the majority of your budget on keywords that drive sales, while capping non-profitable keywords to save money, you'll discover that your modest advertising investment can quickly lead to sustainable and healthy business growth.
Advertising on Facebook
Aside from Amazon sponsored ads, a massive part of advertising spend will be on different social media channels. For now, let's take a quick look at writing ads for social media.
So part of graduating from a beginner to a great marketer is learning how to make your products relevant and exciting to people. Remember that people don't necessarily care about your brand or its products. What they care about is themselves. Get them interested in your product by first getting their attention, and second show people how your product can improve their lives. I know it's easier said than done.
People don't always enjoy being hit with pure sales messages, either. Make sure your posts are interesting, and that they connect your product with things your customers might love. Think about ads that use cats, dogs, babies, anything that grabs people's attention.
Learning to write perfect ads is a skill you can transfer to both twitter and Instagram ads. You can also leverage the power of Instagram influencers to increase sales. There are several different digital marketing channels open to you, depending on your product.
Wrap Up
So this is a quick rundown of everything you need to know about how to sell on Amazon for beginners. Once you've taken your time to study and implement this entire process with the help of Amazing Selling Machine, you're ready to start selling on Amazon. Of course, this is just a quick preview of the entire process, and you should dive into all of our guides linked in this post. Devote a certain number of hours a day to this new project, and you'll learn how to sell on Amazon as a beginner in no time!