Why is Amazing Selling Machine (ASM) More Expensive?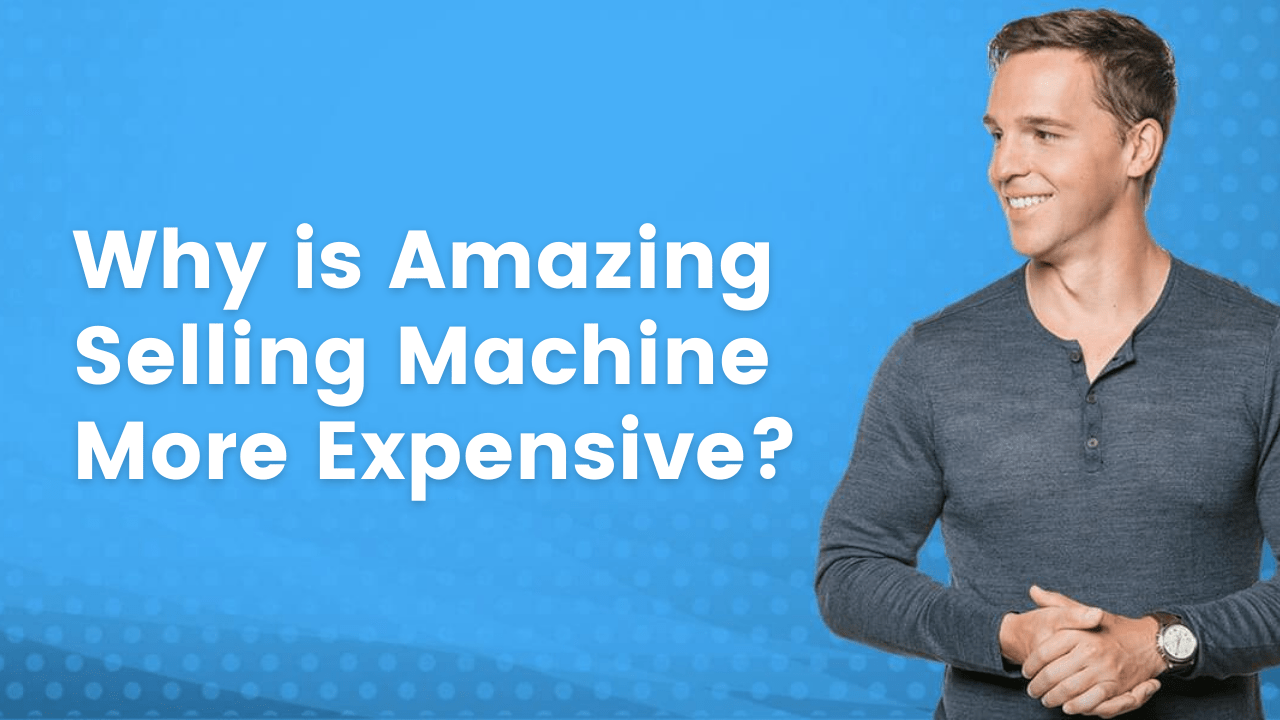 Amazing Selling Machine, or ASM, isn't your only option to build an ecommerce business on Amazon. Since we started teaching ecommerce in 2012, lots of new courses have become available. You might have seen some of the other options and wondered, "Why is ASM more expensive?" I hope to answer that question with this article.
What's the price of ASM?
You can join ASM today by paying one payment of $4,997. Alternatively, you can join with six payments of $997, each 30 days apart. The payment plan costs you more overall, but allows you to spread the investment over time. Whether you choose the single upfront payment or the payment plan option, you get the same full access to ASM.
There are no recurring fees beyond the price options mentioned above. Once you've completed your one upfront payment or all six payments in the payment plan, you're done. There's no recurring fee to access the ASM program.
How to get a discount on ASM
On most live webinars, we offer a special deal with ASM. Sometimes, we add a bonus such as one-on-one coaching sessions or even money back on your inventory investment. Other times we offer discounts on ASM up to $1,000 off.
We also offer a "light" version of ASM called ASM Foundations. With this product, you get the same video training in ASM without access to the Mentors and private community (see what's included with ASM below). ASM Foundations is currently available for a single payment of $1,997. Here's the link to ASM Foundations if you're interested.
Our pricing philosophy for ASM
When we created the first true version of ASM in 2013 (in 2012 we sold a precursor to ASM), we determined what we thought people needed to be successful. We created every component, tool, bonus, and training resource needed to help people start from scratch and succeed on Amazon. Then, we chose a price to reflect everything included.
The same approach to pricing ASM applies today. About 30,000 people have joined since we started. We think we have a good idea of what it takes to succeed long-term with this program. So we include every resource in ASM we think is necessary to succeed in this business. Our pricing is based on us giving members what they need and giving ourselves a healthy profit margin to justify the time and effort spent delivering ASM.
We believe we offer a unique combination of great training, hands-on support, and resources for our members to justify their investment in ASM. However, ASM may not be the right choice for you. I'll discuss that at the end of the article.
What's included with ASM?
We're frequently updating and adding to ASM. So some of this might change (for the better) by the time you read this. But, here's what's included with the current version, ASM Evolution:
Online training course
126 videos over 11 modules. Around 20 total hours of step-by-step video training. 100% of these videos are brand new as of May 2021.
With the online training, we believe less is more. Each video must help members build their business. We only include the information and steps we believe are necessary to succeed. We don't like to pad our numbers by adding unnecessary, time-wasting training.
Modules are released one week at a time. We do this to make sure members are actually going through the training and doing the steps, not just flipping through videos without taking any action. We also do this to prevent people from joining, downloading all the videos, then refunding.
The private community & ASM Mentors
ASM members have their own private online community. Members interact with each other online and get help from our team of Amazon experts, the ASM Mentors.
We get over 400 posts per day in the community from members. Most of these are unique questions about unique problems encountered by our members. ASM Mentors aim to respond to all questions directly in the community within 24 hours.
Software tools
We include three software tools not publicly available with ASM. One tool helps you find keywords to target, another helps you increase keyword rankings through cash rebates, and another helps you evaluate product opportunities.
We now also include access to Zoof, a high-quality Amazon software tool we show members how to use to find product opportunities. The price for Zoof is $97 per month and we pay for six months of it for new ASM members at a cost of $582 per member. Six months is plenty to find a product opportunity with this tool. Should members decide to keep using it after the six months, they need to pay Zoof directly the $97 per month fee.
Weekly group coaching calls
Each week we host a one to two hour group coaching call for ASM members. Members are allowed to submit questions before or during the coaching calls to be answered live by the ASM creators or ASM Mentors. Calls are recorded and placed in the ASM members area to watch later.
Current guarantees with ASM
The last thing we want is for a member to join ASM, be unhappy with their purchase, and have to fight us to get their money back. It's not good for the members and it's not good for us. So we offer a 30-day guarantee to all members. A member can join ASM, go through the training for up to thirty days, and request a refund if desired. We'll typically ask "why" to get feedback and will then give a refund. We aim to make the process as painless as possible.
We also typically offer a results-focused guarantee currently called the Success Agreement. The purpose of this agreement is to give members the opportunity to build their businesses and still get a refund if they aren't happy with their results. As this puts a lot of risk on us, we require members to complete certain action steps in ASM to qualify. See the details of the current form of this agreement here.
Why ASM might not be right for you
We hope you join ASM. We love helping our members and have seen so many people's lives changed as a result of ASM. That's why we keep offering it today.
However, ASM may not be right for you. Here are a few reasons why you may want to look elsewhere:
You need to make a bunch of money in a short period of time
If you're desperate for money and need to change your financial life in two months, ASM is not going to help. It will take you six months or more to produce consistent profits with ASM. If you can't wait to take money out of your business for at least that amount of time, then don't join ASM.
You want "black hat" techniques to cheat the Amazon system
When we first started teaching strategies to sell on Amazon in 2012, we taught people techniques that would get your account suspended today. Back then, it was the wild west on Amazon. Today, things are different.
We don't teach "black hat" or highly risky techniques in ASM. Our focus is to help you build a long-term, sustainable business that is worth something. The goal isn't just income, it's to build a multi-million dollar asset you can sell so you never have to work again if you don't want to.
Risking your entire business or Amazon seller account getting shut down to make a few extra bucks in the short-term isn't worth it, in our opinion.
You're based in a country not permitted by Amazon Seller Central
No matter where you're at in the world, there is a way to sell on Amazon. However, it can be too much of a hassle if you're from certain countries. You may have to get someone else to set up your Seller Central account, use an address based in the US, or get a bank account in another country. Fortunately, Amazon is adding new countries all the time. See the current list of allowed countries here.
You can't comfortably pay for ASM and invest another $5,000 in inventory with no return for six months
ASM currently requires an upfront payment of $4,997 or six payments of $997. Even if you choose the payment plan option, you're still investing almost $6,000 over less than six months.
You also need to buy inventory. For some products, you can purchase enough inventory with only $2,000. However, we recommend you have $5,000, if possible, to launch your brand with sufficient inventory so you don't immediately run out of stock and have to regain all your hard-won search rankings.
If you can't afford both of these investments, ASM may be too costly for you.
You aren't willing to invest 10 hours per week or more to build a business right now
Between watching the ASM course videos, asking questions as needed in the community, and doing the action steps we describe to build your business, you need to invest at least one to two hours a day to get your business off the ground. Later, you will spend more time marketing and growing your business, but that's not necessary at first. What is required is consistent effort week-after-week for six to twelve months.
If you can't commit to at least ten hours a week to building your business, then ASM and the "Amazon FBA" model might not be right for you.
Summary
I want you to join ASM, but only if it's right for you. If it's not a good fit, you won't be successful.
If you are a good fit, we'd love to have you in ASM. It's backed by two guarantees, so you have little risk required to give it a try. We believe it is 100% worth the additional investment compared to cheaper options available today.
If you're interested in joining ASM, go here to sign up.
If you want more information about the business model, register for free training here.
To Your Success,
Matt Clark, CEO of Amazing