Top Amazon Seller Secrets Revealed: THREE Expert Growth Hacking Tips You Have To Try NOW!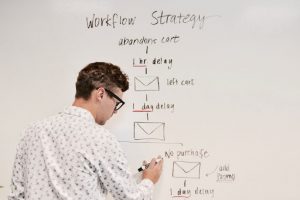 Hack into more sales, a stronger business, and a better life with these expert Amazon tips!
"Growth hacking" isn't just for tech startups anymore.
Top Amazon sellers use growth hacks all the time to pump up sales, hook new customers, and start scaling.
So if you've got an Amazon FBA business and you want to take things to the next level, buckle up! We've got some growth hacks you can implement TODAY to start earning more sales ASAP.
Send "buy again" emails

Personalize your store's homepage

Create A+ content

Hack Your Way Into More Sales And Live The Life You Deserve!
Send "buy again" emails
Returning customers are just as important (if not more important) than new customers. A great way to re-engage with returning customers is through "buy again" emails (or post-purchase emails).
Sellers can send out a "buy again" email 1 – 2 weeks after the initial purchase (or longer depending on the product). These emails invite customers to make another purchase, and they usually include a link to the product they bought last time. They can also include links to other related items in the brand's shop.
Either way, the email should be short, to the point, and inviting. You can send email follow-ups via Amazon directly, or you can invest in software to help automate the process.
Plus, according to Convertcart, post-purchase emails can drive higher customer retention rates, increase the customer lifetime value by 10x the initial order, and strengthen brand loyalty.
Pro Tip! You don't HAVE to send "buy again" emails. Plenty of sellers choose to send other post-purchase messages that ask for feedback, encourage reviews, and share informative content.
Personalize your Store's homepage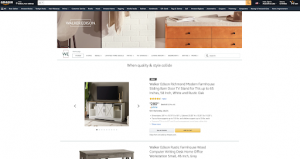 Amazon lets sellers build their own storefront within the platform. This lets you showcase your products "away" from other competitors in Amazon AND you can customize it AND (bonus points) it's totally free!
See how the Store example above has brand elements? You can add your logo, a header image, custom navigation, and more.
Reebok is another great example: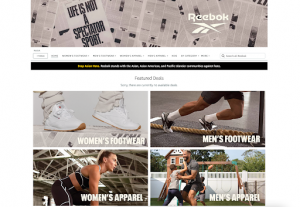 Indo Board also does a great job at showcasing their products in interesting ways: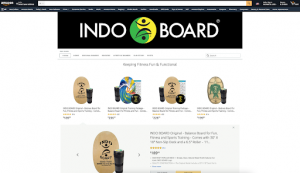 As you can see, there's more than one way to set up your shop. But as long as it showcases your products, develops your brand, and makes it easy to browse, you're golden.
And don't forget to get your custom domain name! This makes it easier to advertise your Store directly to customers via social media, PPC, and so on. Doing so is especially helpful if you don't have a standalone ecommerce shop.
Once your shop is set up, you can enjoy benefits like:
Integrated promotion. Amazon lets you promote your store and products via social sharing buttons and other extensions.
Brand Analytics. Amazon provides a Brand Analytics dashboard to view metrics and other info to optimize ad performance and increase traffic.
Increase brand awareness. Amazon Stores let customers explore your brand and shop all your products in a single spot.
Pro Tip! Invest time in your Store. Use brand elements like logos wisely. And organize your products in a logical way that's engaging and inviting.
Create A+ content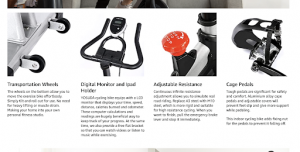 Amazon A+ content is extra image, video, and text content at the end of a listing's description — like that's in the example above.
In short, it's enriched multimedia content that goes a step beyond the "typical" content buyers can find on an Amazon listing. A+ content can include videos, FAQs, interactive modules, and mobile-friendly and voice-friendly content.
Any Amazon seller that's brand-registered can use A+ content, and you can enable A+ content for up to 15 ASINs per month. In addition, sellers in Amazon Exclusive programs or Launchpad should be able to use A+ content automatically.
The reason why A+ content is worth the effort is because it helps increase conversions AND reduces returns at the same time. More sales and fewer returns … what's not to love?
Plus, A+ content gets indexed by Google, making your products easier to find from search engine results. Amazon also lets sellers A/B test A+ content to find out which content performs best for each product.
Pro Tip! The more information you have, the better. Take advantage of word count, images, video, tables, you name it. Customers will be more likely to make a purchase, and less likely to return it!
Hack Your Way Into More Sales And Live The Life You Deserve!
Ready to hack your way into even MORE sales? Want to ditch trading time for money? Check out these FREE resources to unlock the power of unlimited potential. Here are some of our favorites to get started:
Not Sure If It's Time To Scale? Here Are The Top Three Signs Your Business Is Ready (Plus Expert Pro Tips Along The Way)
Amazon Metrics EXPLAINED! What Most Sellers Don't Know & How To Use Data To Your Advantage
Take The 7-Day One Product Challenge NOW! Start Selling On Amazon With A Single Product For Just $97
Get even more expert Amazon seller tips with these downloadable eBooks, courses, and tools! Each one is FREE … but only for a limited time only!
Get My FREE 14-Day Trial Of Zoof! Outperform Competition, Avoid Money Traps, And Become A Top Amazon Seller With This All-In-One Tool
Build A Successful Brand You Own And Live Your Dream Lifestyle With Secrets Exposed In Million Dollar Brand! Get This Free Downloadable eBook For A Limited Time Only
Find A Profitable Product To Sell On Amazon Without Lifting A Finger! Take The First Step To Amazon FBA Success With This Pro Product Package
Remember to bookmark the Amazing.com blog! We're always posting guides, how-to's, and other helpful info on how to build and scale an EPIC Amazon FBA business. Don't forget to check back frequently so you don't miss out on any Amazing updates!
Want even more Amazon insider info? Follow us on Facebook and Instagram so you never miss a beat.