Amazon FBA Product Research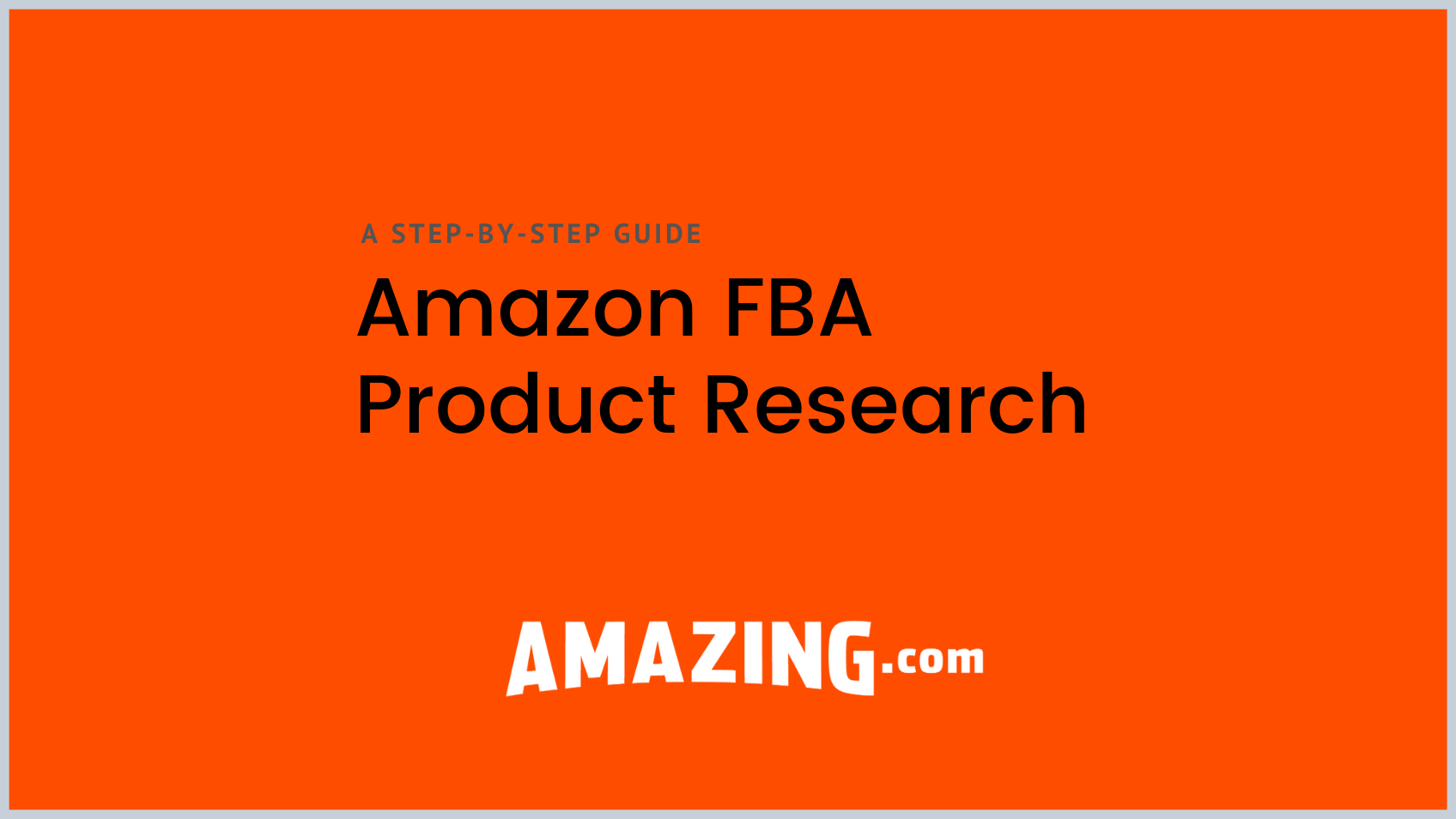 Guide Contents
Whether you're doing Amazon FBA product research for the very first time, or you're trying to find the next hot product opportunity for your brand, we'll show you how to find the best products to sell on Amazon. If you follow these criteria during your Amazon FBA product research, then you should have no problems finding some real hidden gem product opportunities!
So when most people consider Amazon FBA product research, they don't realize how time-consuming it is. I mean, it sounds simple enough. Just find a generic, lightweight product, with low competition. Then, take high-quality pictures and create an optimized product listing on Amazon. If you want to become an Amazon FBA seller, then there are a few criteria you have to follow, or your product will never have a chance of being seen on Amazon.
Amazon FBA Product Research
See what most sellers fail to realize, is that Amazon FBA product research can be the single most crucial aspect of selling on Amazon. After all, if you don't choose the perfect product to sell on Amazon, or if you skip any of these five steps during your Amazon FBA product research, then you'll quickly grow frustrated at your total lack of sales. We'll introduce you to the product finder tool you'll need, and equip you with all of the necessary tricks and tips that make Amazon FBA product research an exact science rather than a guessing game.
So if you're looking for the best guide to Amazon FBA product research in 2019, then read through this and learn all of the essential steps for finding the perfect product opportunities on Amazon!
Now let's take a look at the necessary steps for optimal Amazon FBA product research.
First things first, you need to download a product finder for Amazon. Then select a top-level category from Amazon's homepage. Once you've selected a category from the drop-down list, for example, "Home & Kitchen," then in the search box, you'll enter the negative key along with any string of numbers. So it will end up looking like "-53453", then just hit that search button and launch your product finder.
So now that you've chosen your top-level category, entered that search string and hit search, it's time to launch your product finder tool. The product finder tool will automatically start scraping hundreds of product opportunities from within your chosen category that you'll need to sift through.
To speed up this process, we're going to show you how to set the five rules as filters to quickly sort through all of these products and find yourself a winner for your brand. Then, just keep pulling more products into the tool, and you'll start to discover unique new opportunities for your brand.
Patience is critical here because the deeper you dig into Amazon's pages, the more likely you're to find a product opportunity that other sellers have yet to discover. And, If this sounds like a lot of information right now, don't worry, Amazon FBA product research becomes much easier once you've run through the entire process a handful of times. You've got your product finder, you've chosen a top-level category, so let's get started!
Rule 1: The Best Sellers Rank MUST be Between 300 & 5000
To ensure your product has a high likelihood of being discovered, you have to find a product opportunity. The right product will have a rank anywhere between 300-5000. If you go outside of this range, your product will become harder and harder to find as competition increases.
Keep in mind that when you're comparing the best sellers rank of a potential product, you only want to use the rank of a product's top-level category. So if you go to a product listing and scroll most of the way down the page, you'll see the words "see top 100" displayed next to the top-level category and the BSR rank. The subcategory of that product will have a BSR presented next to it, but nothing else.
It's important only to note the BSR of the top-level category since there's no surefire way to use the BSR of the subcategory when doing Amazon FBA product research. Using the BSR of the top-level category is the best method for sorting viable product opportunities from overly competitive ones.
Besides checking manually on a product's listing, you can set a filter within your product finder tool, that way you'll only see products within this optimal BSR range.
Rule 2: No More Than 1000 Reviews
So all of these rules are designed to help you do the best possible Amazon FBA product research. Essentially that boils down to choosing products that won't be too competitive or expensive to source and keep in stock. Using a baseline of 1000 product reviews or less helps you achieve all of these goals.
When you launch a brand new product on Amazon, you're going to be starting with zero reviews. If you plan on gaining traction on Amazon, you have to choose a product that stands a chance.
See if you chose a product, and the competition already has 10,000+ reviews. You're never going to look very credible in comparison, so you want to give yourself the best shot at success as possible.
Most products on Amazon will have FAR LESS than thousands of reviews. Using your product finder, you can sort by reviews and easily
Rule 3: Less Than Five Lbs
So obviously, when you're sourcing physical products for your brand, there are shipping costs involved. If you source a product that's over five lbs, then the price of shipping inventory could become a financial issue and annoyance.
When you start to consider refunds and shipping out additional units, the costs get expensive.
The best product possible would be small and lightweight. If you find that product, and it meets all the other criteria, then you're set.
Rule 4: Costs Between $15 – $70
The sweet spot for a potential product is between $15 and a maximum price of $70.
Just set a filter within your product finder tool, and you can immediately sort out all the unwanted product ideas. This price range is necessary to provide maximum profitably while not costing you too much when you have to reorder inventory in the future.
Rule 5: Potential For Private Label
So private label potential is when a generic product on Amazon can be private branded. You can create a logo for your brand, attach it to this product, and it'll help to differentiate yourself from the pack. Additionally, it can build brand awareness, and assist in driving sales whenever you launch new products.
Don't rush it, but when you do have a potential product in mind, head over to alibaba.com and start scanning to see if you can find a manufacturer.
Small Investments Go a Long Way
For your first product, keep your initial investment low. If the product turns out to be a smash hit, and you've got a stable relationship with a trustworthy manufacturer after your first inventory order, then go ahead, restock!
Once you fully understand this business, from Amazon FBA product research, talking to suppliers, and advertising your listing, then the possibilities and opportunities are endless! Want even more insight into the Amazon FBA product research process? Check out our recent guide on the best products to sell on Amazon FBA.
Get Started Today!
And if you want even more amazing tips on how to sell on Amazon, then sign up to be among the first to be notified when the Amazing Selling Machine reopens! Besides getting access to our fantastic community of sellers, we'll show you exactly how to tackle a variety of pain points regarding Amazon FBA. From paid advertising strategies, to listing optimization, and private brand tips, ASM can guide you with everything you need to know.
We've helped thousands of individual Amazon sellers start and grow a business on Amazon, allowing them to live their dream life!