5 Hacks to Sourcing Products from China on Alibaba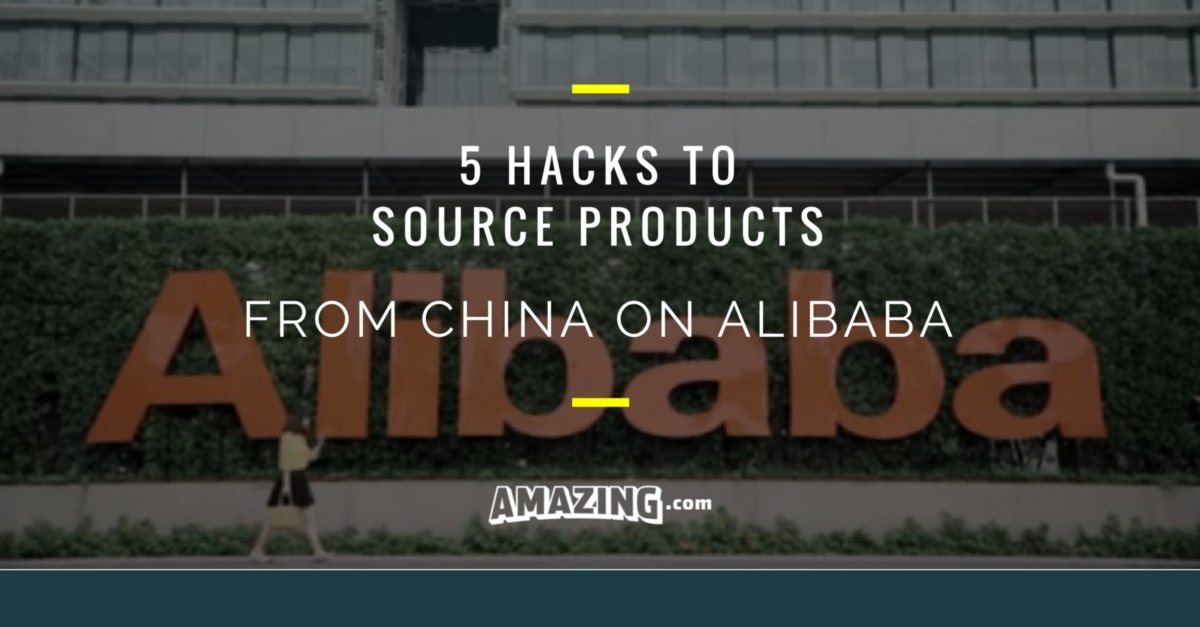 Sourcing products from China to sell on Amazon from Alibaba can often be tricky, especially for Westerners. They are either overwhelmed by the large supplier list or fear the possibly of getting scammed. I am going to share my five hacks to sourcing products from China on Alibaba based on my experiences. Finding suppliers abroad for FBA is stressful, but once you've gone through the sourcing process a few times, you'll begin to feel like an expert.
1. The best time to source products on Alibaba
Since Alibaba's server is based in the U.S. and all the product data updates every Tuesday at 12PM PST, the product keyword rankings will renew every Tuesday. So if you conduct searches on Tuesdays, you will get the latest supplier list ranking.
2. Speed up the Sourcing process
Play around with the keywords – Most of the suppliers on Alibaba are Chinese and due to the language differences, sometimes one Chinese keyword has a few different meanings in English and vice versa. Try using synonyms or mixing up the order of the words.
Filter the list – If you are using Alibaba for the first time, you'll probably be overwhelmed when you see over 10,000 product listing for just one particular product you are looking for. I don't know about you, but I personally don't have the patience to go through 10,000 products. I search by suppliers instead of the products. There are four boxes underneath the suppliers which include: "Golden Supplier", "Accessed Supplier", "Online Now", and "Trade assurance." Just tick all the boxes which will narrow down your supplier list significantly. Also tick the box "North American" under the top markets if you want your products to be shipped to North America. This will further narrow down your results. Choose those that have been on Alibaba for more than 2-3 years. Try to contact as many suppliers as you can to compare the offers.
Live Chat – The reason you should tick the box "Online Now" is to initiate live chat with the suppliers. I never write any email to the suppliers on Alibaba. As a Chinese person myself, we do prefer more personal contact. I normally just send greetings to as many suppliers as I can and tell them what I am looking for. As soon as they reply back, I just ask them if they use WeChat so we can move the conversation to a more personal environment. If you don't use WeChat, the suppliers also have WhatsApp or Skype accounts. I notice the suppliers become a lot more relaxed and trustful when chatting on WeChat because in WeChat we can see each other's personal life and activities on WeChat moments.
3. Negotiation, Negotiation, Negotiation!
Ever since I was a kid my mum always bargained the heck out of merchants every time we went shopping and if the merchants didn't accept the prices she would just walk away. I didn't want to walk away because I really liked the product but mum would say: "Don't worry. They will call us back in 10 seconds"… and they did every single time! Chinese merchants used to love Western customers because bargaining wasn't really part of their culture. Nowadays, Westerners are catching on and starting to bargain, so the merchants raise their prices by at least half so they still profit.
When it comes to sourcing products on Alibaba, the suppliers can't raise the prices by half because everything is transparent online, but there is still room for negotiation. You might receive different prices for the same product. Always compare the quality and prices of different samples before negotiating the price with the selected supplier for the formal order and do not push the prices too hard. Everything is negotiable with Chinese suppliers including prices, minimum order, payment terms etc.
4. What you see is not always what you get!
There is not a 100% guarantee that the suppliers won't scam you even if you choose suppliers with "Golden supplier," "Accessed Supplier," and "Trade assurance" badges. A few things you can do check out the suppliers:
Company website – Apart from the company profile page on Alibaba, do they have an official website?
Google – Try to Google them and see if there is a scam report or comments about the company.
Ask lots of questions – Ask any questions that will make you feel comfortable with the suppliers or the products. For example, if the photos are high quality on the supplier's website but you worry you might receive a low quality product, you could ask for production photos and ask the person you are speaking with to take a photo of themself holding the product you want to order. Keep following up and if the conversations become inconsistent or if they don't reply, then use good judgement and know they're not the right supplier.
Third party inspection – If you are not able to physically visit the factory in China, it makes sense to get a third party to do a pre-shipment inspection which includes function testing, checking the production, and making sure the products are made according to your order requirements.
5. Payment
Most suppliers offer payment options like TT, Paypal, and Western Union. Do not work with suppliers who only accept wire transfers, as they are likely scamming you. Try to negotiate the payment terms with the suppliers and try to avoid paying 100% upfront. PayPal is a popular payment method for buyers as it presents a much lower risk and good buyer protection. But it's less popular with suppliers due to difficulties with withdrawing money, high tax rates, and potential chargebacks from dishonest buyers. If a supplier accepts PayPal as a payment option, they are likely trustworthy.
Have you tried sourcing from suppliers on Alibaba? What kind of tricks and tips have you found helpful?